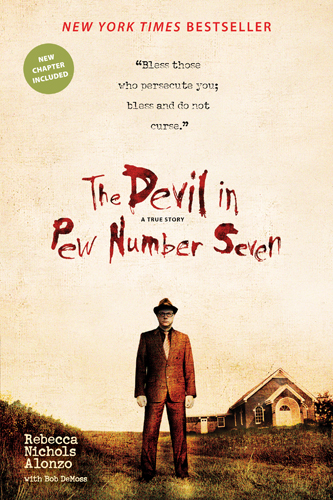 List Price: 14.99
ISBN: 978-1-4143-2659-7
Trim Size: 5 1/2 x 8 1/4
Binding: Softcover
Release: August 2010
2011 Retailers Choice Award winner!
Rebecca never felt safe as a child. In 1969, her father, Robert Nichols, moved to Sellerstown, North Carolina, to serve as a pastor. There he found a small community eager to welcome him—with one exception. Glaring at him from pew number seven was a man obsessed with controlling the church. Determined to get rid of anyone who stood in his way, he unleashed a plan of terror that was more devastating and violent than the Nichols family could have ever imagined. Refusing to be driven away by acts of intimidation, Rebecca's father stood his ground until one night when an armed man walked into the family's kitchen . . . And Rebecca's life was shattered. If anyone had a reason to harbor hatred and seek personal revenge, it would be Rebecca. Yet The Devil in Pew Number Seven tells a different story. It is the amazing true saga of relentless persecution, one family's faith and courage in the face of it, and a daughter whose parents taught her the power of forgiveness.
From Angie:
Although I sped through the last 3/4's of the book on the edge of my seat, the first 1/4 was a little bit hard to jump into. However, it is necessary. To listen to the author recount the vivid details of her childhood – riveting! It is hard to imagine that this is a Non Fiction book! It is hard to write a review, without giving details of the book away! I will say – the restoration of forgiveness – what she went through – her heart in telling the story- it is definitely a must read. You can sort of tell the part of the book where she, as a writer, really kicks it up a notch and the words must have just been flowing. From the summary above, I'm not sure I was breathing from the moment the man stepped into the kitchen, until the last page. I have so many questions. I finished just before leaving for church on Sunday – but I wanted to stay – to find Rebecca's number to call her, to talk to SOMEONE who has read this book!
Life is Hard, but God is Good. You'll definitely be repeating that after this book. You might look at how you stand, ready to Give Yourself, even when others are saying you're being taken. I am encouraged to stand, speak and give just a bit more each day. Thank you to Rebecca's Parents.
Tyndale House Publishers has provided me with a complimentary copy of this book.